Hello Church!
We look forward to worshiping together this Sunday morning at 9:30 am. Click here to view our live stream.
If you'd like to follow along with the order of service, click here for the bulletin.
To join us in singing, find the hymn texts on our music sheet.
We wish you a blessed and restful Sabbath!
July 28, 2020
Dear Friends in Christ,
We will hear a well-known story in worship this coming weekend, the one commonly known as "The Feeding of the 5000."   It's a familiar story, but even familiar stories have started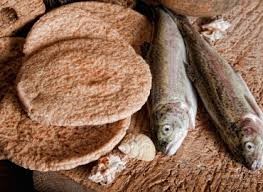 to sound a little different to me in these past several months. Since I've heard this story countless times since I started Sunday School, I've come to expect the multiplication of fish and loaves in the story. Now the part that strikes me is that a huge crowd of people had gathered in one place. That used to be a thing!
We may not be gathering in huge crowds for the time being, but nevertheless the experience of hunger is all too common in our society, even among children. Imagine how this story would sound to someone who hasn't eaten yet today or isn't sure where their next meal is coming from. Imagine the hope and the joy they would feel as they learn that, despite the huge crowd, in typical God fashion, Jesus had provided abundance, more than enough for all.
There is a beautiful simplicity in Jesus' action here. Jesus simply saw the people were hungry, he was filled with compassion, and he fed them. But he didn't do it alone. One striking line in this story for me is Jesus telling his disciples, "You give them something to eat." I'm certain their eyes grew wide as they clearly did not have the means to fulfill Jesus' instruction. As the story unfolds, we learn they weren't entirely responsible, but they did have a role to play as God provided.
What is our role in feeding God's people? Since I've changed my day off each week to Monday, I'm more frequently in my office on Fridays. Now I get to witness a little more closely the feeding ministry of Luther's Kitchen and the efforts of the dedicated volunteers who provide a free meal for anyone who shows up to receive it. Even in its simplicity, it is powerful to behold.
There are other ways we might participate in providing for our neighbors. Many members of our community have come together to tend a large garden for the Lord's Cupboard food pantry. Did you know that this garden is made of raised beds—beds that are high enough that you don't need to get on your knees or even bend over to reach the weeds or the harvest?!? New volunteers are eagerly welcomed, and certified green thumbs are not required!
These two examples won't fit for everybody. Maybe in honor of Matthew 14, you'd rather send a gift to ELCA World Hunger. Or make a financial or food contribution to a local hunger-fighting project. In 2020, we don't get to hand out fish and loaves blessed by Jesus' own hand, but, as Christ's body on earth today, what is the next best thing we can do? This week let's challenge ourselves to look for ways to love our neighbors who are hungry… until all are fed.
In Christ,
Pastor Brandy
******************************************************************************************************
Wedding Congratulations! On Saturday, August 1st, Sierra Payne & Bryan Doerr were united in marriage here at First Lutheran Church.  We celebrate their union and wish them all the best as they begin their new life together.
Sympathy is extended to the family and friends of Shirley Darr.  Shirley passed away on Wednesday, July 22nd in Minot. A memorial service for Shirley was held on July 28, 2020 at First Lutheran Church. 
Sympathy is extended to the family and friends of Alfred "Al" William Plouffe, father of FLC member Chris Braun.  Alfred passed away on Tuesday, May 5th in Texas.  Burial took place on Saturday, August 1st at Rosehill Cemetery.