Faith Formation @ FLC
While summer is usually a time for Bible camp and VBS, we, like everybody, are contending with uncertainty around how best to carry on ministry in the time of Covid-19. The health and safety of our children, youth and families are important to us! We currently have no set plans or information to share, but we continue to pray and contemplate fellowship and learning opportunities for this summer. We will update this page and communicate with the congregation when decisions are made.
Wednesday School
First Lutheran Church offers Wednesday School for children 6th grade and younger. The evening begins with an optional meal in the Parish Hall at 5:00, family worship in the sanctuary at 5:45, followed immediately by classes until 7pm in the Parish Center.
For more information please contact: Melissa Ramshead, Director of Faith Formation (firstlutheranedu@gmail.com)
Or call the church office (852-4853).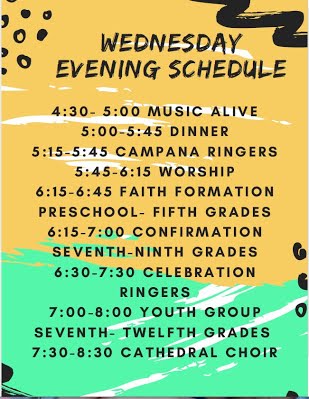 Vacation Bible School
Vacation Bible School (VBS) is usually held in June for students in preschool through 6th grade. It is open to members and non-members of First Lutheran Church.
2020 Vacation Bible School:
Plans pending
Confirmation
All 7th – 9th grade students are invited to participate in Confirmation. We will meet Wednesday evenings from 5:45-7:00 pm, beginning in the sanctuary with worship. Class formats will include large and small group learning, Bible journaling, service projects and fellowship events. New this year will be a mentoring component during the season of Lent.
For more information, or to register, click here!
Camp Metigoshe
Every summer there are many wonderful camp experiences available at Camp Metigoshe. Anyone who attended camp will be mailed a brochure for the following summer's camp opportunities. If you do not receive the Metigoshe Ministries Summer Camp brochure, you can pick one up at the church office or visit their website (www.metigosheministries.com).
First Lutheran will pay 1/3 of the cost of one camp session, per year, for members. Please register directly with Camp Metigoshe first, and then call the church to inform us of your scheduled camp.
If your camp is in June, you must let the church know by May 15th. If your camp is in July or August, you must let the church know by June 15th. Please remember that the camp does not coordinate this information back to the individual churches, so it is your responsibility to notify the church office by the above dates. If you do not meet the deadlines, you will be responsible for the entire fee when going to camp.
WND Synod LYO Gathering
The Western North Dakota Senior High Youth Gathering is an annual event held each year in October for youth in grades 9 – 12. The Gathering is a weekend of fun, learning and service with friends old and new. The next gathering is October 22-24, 2020 in Mandan. Follow them on Instagram: @lyo_westnodak.
Youth Group — 48* North
Youth in grades 7-12 are invited to participate in 48* North, the youth group at FLC. Youth group meets on Wednesday evening following faith formation activities, as well as occasional Thursday evenings for "coffee hangs" at various coffee shops in town. Youth group is a great opportunity to hang out with friends old and new, dig into Bible studies,  grow in your faith. The youth group typically travels each summer, alternating service/learning trips with the national youth gathering, which is held every 3 years. Talk to Melissa for more information!