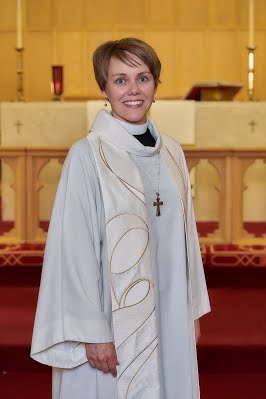 Rev. Brandy Gerjets
Lead Pastor
Pastor Brandy Gerjets moved back to her hometown of Minot with her husband Travis in 2014,
where she first served as Associate Pastor of First Lutheran Church. In late 2017, she became the Lead Pastor
of First Lutheran Church. She graduated from Valparaiso University in 2004 and Luther Seminary in 2008 before
traveling abroad with her husband Travis for one year, enjoying a fellowship to experience different expressions of church in faraway places. She has served congregations in Marshall and Waconia, MN. When not fulfilling pastoral duties, she enjoys reading, decorating cookies and cakes, and taking pictures of her two adorable sons, Everett and Barrett.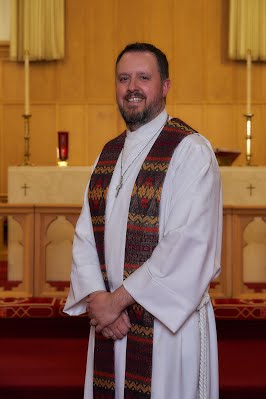 Rev. Ellery Dykeman
Associate Pastor
Pastor Ellery Dykeman moved to Minot in February, 2018 and accepted the call to serve here at First Lutheran as the Associate Pastor. Ellery was born and raised in Tacoma, Washington and graduated with a degree in Youth and Family Ministry from Trinity Lutheran College in 2001. He then moved to Lebanon, Oregon where he served full time as a Youth & Family Minister for about 5 years before heading off to Dubuque, Iowa to attend Wartburg Theological Seminary, where he graduated in 2010. He did his pastoral internship in Victoria, Texas, was an Interim pastor in West Branch, Iowa, and served first call in Monticello, Iowa at Wayne Zion Lutheran Church, before moving to Dickinson, North Dakota where he served two Lutheran churches and an Episcopal congregation.  He is a long-suffering Seattle sports fan and loves traveling and exploring new places whenever he can. When he can find time, he enjoys brewing beer, getting dirty in the garden, playing his guitar, hiking any trail he can find and sharing his life with his 3 kids, 2 dogs and 2 cats, and one parakeet. 
Melissa Ramshead
Director of Faith Formation
Melissa grew up in Forest Lake, MN. She attended Bethany Lutheran College in Mankato, MN where she earned a degree in Elementary Education. She moved to Minot in 2014 to become a teacher at Our Redeemers Christian School. In 2017, she became the full time Director of Faith Formation at First Lutheran, where she represents the Millenial generation on staff. Her favorite food is Thai Pizza and she likes the color puce more than most. She and her husband Jeremiah have recently become happy homeowners and blossoming DIYers. They share their home with three adorable daughters–Wren, Quinn and Milo–not to mention their two furry friends Benji and Patricia.
Additional Staff:
Tarryll Shomento, Office Assistant

Kasey Dunnell, Office Assistant
Jennifer Hunze, Financial Secretary
Jeremiah Ramshead, Custodian
Rita Rae Sundahl, Organist
David Shomento, Media Center Coordinator
Wayne Schempp, Cathedral Choir Director 
Jeannie Sovak, Director of Bell Choirs
Melissa Wolfe & Heather Wherley, Wedding Coordinator
To contact any of our staff members via e-mail, please use the Contact Us page and your message will be routed as needed. Or call the office at 701-852-4853 and leave us a voicemail!