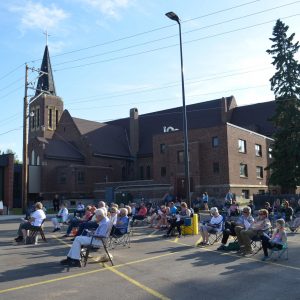 Dear Church,
What a pleasure to see many of you in person this past Sunday morning as we worshiped together in the sanctuary! In fact, there were about 75 people joining hearts and voices in the pews, in addition to about 70 live views on-line—and even more watched the recording later. This does not include our radio listeners, as that number is not trackable. As a note of comparison, last year at this time, our weekend worship attendance was 129, and probably just a handful on the livestream. It is good to be reminded that, even in times of change and uncertainty, we are the body of Christ together, and by the grace of God we are made strong in our weakness.
As we transition back to our more typical worship location, we also want to honor and support those who are more comfortable staying at home for the time being. So, we will continue to provide mailed paper bulletins at your request. This will be the final week of a blanket mass mailing, so please call the church office if you would like to keep receiving worship materials each week. Our regular radio and on-line broadcasts will continue as usual. The bulletins will continue to be electronically delivered to your inbox in our weekly e-mail, and available for download at www.flcminot.com.
Our church council will continue to assess health department data and local conditions. When we might resume our Saturday evening service has a lot to do with the level of cleaning and sanitizing currently desired between space usages within a short timeframe. We will keep you updated on developments. If you love worshiping in the evening, remember to mark your calendar for Wednesday, July 8th at 7pm for our next outdoor parking
lot worship service!
As I write this early on Tuesday morning, there is potential for severe weather tonight at the end of a very hot day. And it reminds me to be grateful and find assurance in how our congregation has come through the storm of unknowns, of sickness and risk, of being apart these past few months. Storms are always a potential in this life, but whatever storms may come for God's people—be they meteorological, public health related, or otherwise—God is faithful in the midst of them. God will eventually bring his people through to a place of joy, wholeness, light and life.
I thank God for you all today, praying that you will remain safe and well, and that we will all be reunited face to face in due time.
In Christ,
Pastor Brandy